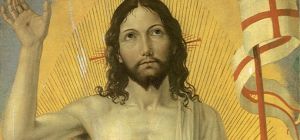 April, 2015
My dear friends in college . . . and beyond,
Have you ever suffered from heartburn? If you relish exotic foods, as I do, perhaps you know exactly what I am talking about. You're at a festive meal, you overindulge in spicy food, and, in a couple of hours, your stomach is churning. Even your esophagus burns! I'll spare you any further details. Let's just leave it at that.
What about a heart on fire for someone or something we love? We are smitten with a young woman of extraordinary beauty of body and soul – the girl of our dreams. In her presence, our hearts beat faster; our hearts leap up! Maybe our hearts have been on fire for a cause, or perhaps some masterpiece of art or music causes our heart to skip a beat. So many times I have watched a Shakespearean play (not infrequently, in my favorite venue for falling in love again with the Bard – the Delacorte Theater in Central Park), and I have been transported in mind and body, heart and soul, to another realm.
And what about heartache? Sometimes, our dreams are dashed and our hearts broken by the harsher realities of life. Things don't go quite as well as we had hoped with that magical girl of our dreams. A loved one is terribly ill, and we are sick at heart over it. We make some seemingly irrevocable mistake in our teenage or early-adult years, and our hearts ache at the grief that we have caused others – and ourselves.
Some of you have been disarmingly honest with me about the difficulties and disappointments that have virtually torn your hearts apart. Your courageous and candid sharing with me has left me truly humbled.
In all these matters of the heart, we are not alone. We are never alone. Whether our hearts are bursting with joy or breaking with pain, the Risen Lord is with us. He rose, so that our hearts might be healed, so that we "might have life, and have it to the full." (John 10:10)
Take a look at this account of two disciples who meet the Risen Lord on the road to Emmaus:
Now that same day two of them were going to a village called Emmaus, about seven miles from Jerusalem. They were talking with each other about everything that had happened. As they talked and discussed these things with each other, Jesus himself came up and walked along with them, but they were kept from recognizing Him.
He asked them, "What are you discussing together as you walk along?"
They stood still, their faces downcast. One of them, named Cleopas, asked Him, "Are you the only one visiting Jerusalem who does not know the things that have happened there in these days?"
"What things?" He asked.
"About Jesus of Nazareth," they replied. "He was a prophet, powerful in word and deed before God and all the people. The chief priests and our rulers handed Him over to be sentenced to death, and they crucified Him, but we had hoped that He was the one who was going to redeem Israel. And what is more, it is the third day since all this took place. In addition, some of our women amazed us. They went to the tomb early this morning but didn't find His body. They came and told us that they had seen a vision of angels, who said He was alive. Then some of our companions went to the tomb and found it just as the women had said, but they did not see Jesus."
He said to them, "How foolish you are, and how slow to believe all that the prophets have spoken! Did not the Messiah have to suffer these things and then enter His glory?" And beginning with Moses and all the Prophets, He explained to them what was said in all the Scriptures concerning Himself.
As they approached the village to which they were going, Jesus continued on as if He were going farther. But they urged Him strongly, "Stay with us, for it is nearly evening; the day is almost over." So He went in to stay with them.
When he was at the table with them, He took bread, gave thanks, broke it, and began to give it to them. Then their eyes were opened and they recognized Him, and He disappeared from their sight. They asked each other, "Were not our hearts burning within us while He talked with us on the road and opened the Scriptures to us?"
They got up and returned at once to Jerusalem. There they found the Eleven and those with them, assembled together, and said, "It is true! The Lord has risen and has appeared to Simon." Then the two told what had happened on the way, and how Jesus was recognized by them when He broke the bread. (Luke 24: 13-35)
"Were not our hearts burning within us while He talked with us on the road and opened the Scriptures to us?"
Friends, when our hearts burn, whether in grief or in joy, I think we really do know, in our heart of hearts, that our hearts are, in fact, burning for Jesus Christ. Only He can truly satisfy our hearts' deepest longings. And when we have found those people and projects and good things of this earth that fill our hearts with true joy, know that He is at the heart of them all. As St. Augustine famously wrote, "You have made us for yourself, O Lord, and our hearts are restless until they rest in you."
Our joys and our heartaches matter deeply to our Lord, and His heart is with us in all the promptings of our own hearts. Jesus knows the stirrings of our hearts, every one of them. Remember, we are never alone. What's more, the Sacred Heart of the Risen Jesus longs for us with heartfelt love and affection. How his heart must have ached when he was betrayed by Judas, denied by Peter, reviled by the crowds, and crucified on the Cross! And how his heart must have been brimming over with joy as He filled his followers with the hope of God's mercy, God's love, and eternal life with God in heaven!
Indeed, Christ's heart still burns with love for us. And this is why we can be so profoundly heartened by Easter joy. Give your heart to the Risen Christ!
In Christ and His Blessed Mother,
Bro. Steve
P.S. In keeping with this month's "heart" theme, we offer you a heartfelt invitation to this spring's retreat for college-age men. This one will be at Founder's Hollow. We'll leave from Chaminade on Tuesday, May 19, at 4:00 p.m., and we'll return to Chaminade on Thursday, May 21 by 3:00 p.m.
Register by going to: https://docs.google.com/a/chaminade-hs.org/forms/d/1vIhuRzcfUyT48JNjghnzzuYqOHd9PZYqtF627GWqEJk/viewform