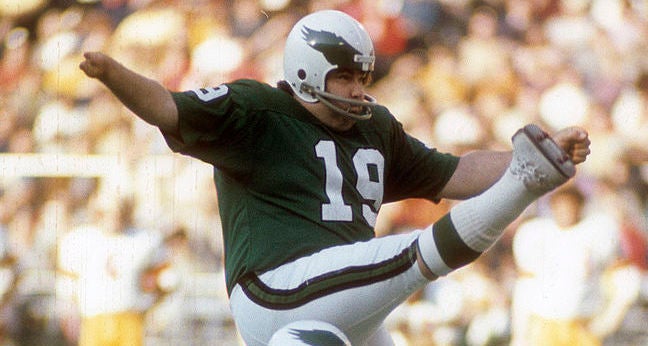 Although Tom Dempsey was a place-kicker for five teams and played in several playoff games, his NFL career can be reduced to one moment. On November 8, 1970, Dempsey kicked a 63-yard field goal on the game's last play to give New Orleans a victory over Detroit. The record-breaking kick nearly overshadowed a more impressive fact: Dempsey was born with only half his right foot (his kicking foot) and no right hand.
The 6-foot, 2-inch Dempsey played for New Orleans (1969-70), Philadelphia (1971-74), Los Angeles (1975-76), Houston (1977), and Buffalo (1978-79). In his rookie year Dempsey kicked a 55-yard field goal, 1-yard shy of the then-record 56 yards. He played in the Pro Bowl following the 1969 season.

-Ed Maloney, "Legends tell all," National Football League, CBS.SportsLine.com.
The faith walk of the Christian is strenuous and demanding. We need strong legs, and healthy feet for the journey.