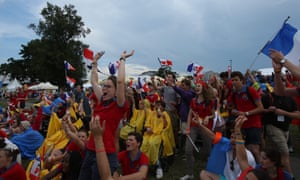 Pope Francis traveled from the airport to Wawel cathedral in his open-sided popemobile, flanked by security vehicles, passing through streets lined with people. After welcome speeches, he prayed at the tomb containing relics of John Paul II, his predecessor-but-one and revered by the public in his home country. The pontiff also had a private meeting with Polish bishops.
More than 350,000 pilgrims from 187 countries have registered for World Youth Day in Kraków. The biggest national groups are from Poland, Italy, France, Spain and the US. Many locals have taken holidays this week to avoid the crowds, road closures and security checks.
City center streets are dominated by large groups of pilgrims – some in national dress or religious robes, but most in shorts and t-shirts. Outbreaks of chanting and singing fuel an atmosphere reminiscent of a major football tournament crossed with a political rally.
More than 40,000 security personnel have been deployed and helicopters constantly buzz overhead.